International Overdose Awareness Day. It's held every August 31st to remember all the lives lost to an overdose. It's also the start of Recovery Month.
IOAD is the one day that we remember all the lives lost without stigma, shame, or judgment. We must remember that each life was someone's son, daughter, brother, sister, mother, father, partner, and friend. They all had their own special traits and personalities that made them unique and made us love them so. They were not just another statistic. They all had a name and we need to say it out loud and with love.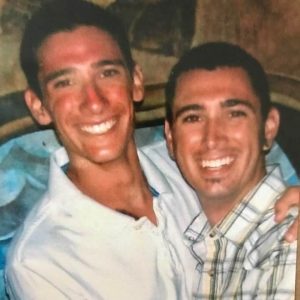 My sons Ryan and Matt were twins. Ryan died on January 29th of 2015 and Matt on February 18, 2018. Three years and 20 days apart. Both Ryan and Matt had charisma and charm. They were loving, kind, and caring. Ryan was a father and standout athlete who always had time to play with his son. He was funny and very entertaining. Matt was the quiet twin who loved his music. He played the violin, clarinet, piano, and guitar. His favorite was the guitar. He was a great listener who was always available with a shoulder to lean on. They were loved by so many and are sorely missed.
My heart is forever shattered and broken beyond repair as I'm sure everyone who has experienced this loss. Today I do find comfort knowing I am not alone with my grief. Today we join together and talk openly about our loved ones. I ask that all the families grieving today to join me in remembering our loved ones. Remember all the wonderful things about them. Remember the special times spent with them. Hold these memories safely in your heart. Their lives were not defined by how they died but by how much they were loved. Say their name. Say it loud and with love!
To all those in recovery, who are my heroes. I have the utmost respect and admiration for you. You managed to conquer the demon. Keep going strong and moving forward.
To anyone who is struggling, please reach out for help. There are so many resources available to help you. We are here for you. You don't have to do this alone. Reach out help is there.
2010 – 2020
The decade we lost half
a million Americans to
the opioid crisis
Denise Williams