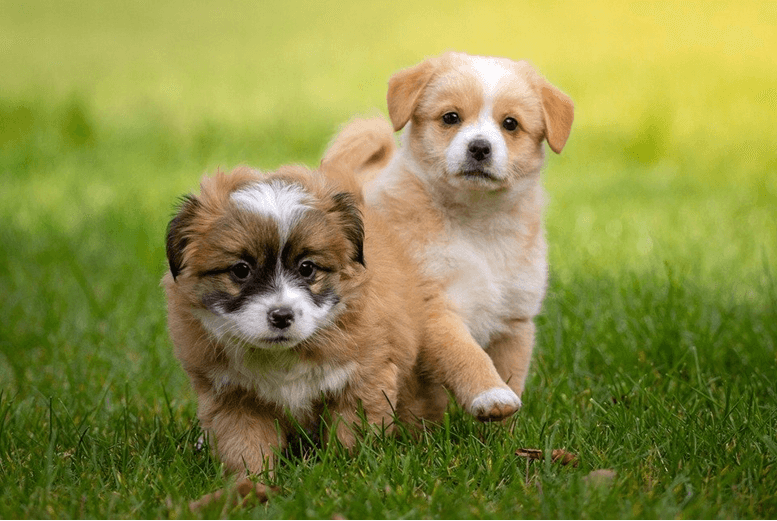 There is a body of research explaining some of the risk and protective factors to prevent substance misuse. For those of you readers that are not in the field of prevention, risk factors are characteristics at the biological, psychological, family, community, or cultural level that influence individuals, and are associated with a higher probability of negative outcomes, such as substance misuse, mental health disorders, among others. On the other hand, protective factors are characteristics associated with a lower likelihood of negative outcomes or that reduce a risk factor's impact (SAMSHA, 2021) (1).
To better understand, let me give you an example. Mary is still in her mother's womb. Her mother is single and does not have steady employment. They live in a neighborhood that is not safe and does not have too many opportunities for recreational activities. After Mary is born, her mother feels hopeless, and does not have good parenting skills or a good support system to help her raise Mary. Unfortunately, those relationships, social and community factors put Mary at a higher risk for substance misuse.
On the contrary, let's talk about Anna. Anna is still in her mother's womb. Her mother is also single, but has steady employment. Even though they have a modest life, they live in a safe neighborhood, with well-kept playgrounds. Anna does not feel she has great parenting skills, so she has taken a few classes on how to take care of babies. In addition, she has registered for a specific parenting program for parents of children ages birth to three years old. After Ana is born, her mother joined the class, is learning parenting skills, and found emotional support from other parents to raise her daughter. Fortunately, those relationships, social and community factors act as protective factors for Ana, making her less likely to have substance misuse disorders and other risky behaviors in the future.
Many families face stressful situations. However, research on children facing such problems has shown that many of these young people show resilience and do surprisingly well.
According to the National Institute on Drug Abuse (2002), some protective factors for substance abuse are: strong and positive family bonds; parental monitoring of children's activities and peers; involvement of parents in the lives of their children; adoption of conventional norms about drug use, to list a few (2).
Resilience is the ability to manage with the stress caused by difficult situations, and developing it, is crucial for preventing initial substance use/misuse for youth. There are several characteristics found in resilient children such as high self-esteem, empathy, help-seeking, and self-awareness that prevent children from engaging in harmful substances like tobacco, marijuana, and alcohol (Access Health, 2020) (3).
And did you know that you can start building resilience in children as young as ages birth to 3 years old? According to the article "Building Resilience: The Power to Cope With Adversity", published in 2016 by the Children's Hospital Boston in collaboration with the University of California, Los Angeles, parents can help their little ones to build resilience, on a daily basis by (4):
Emphasizing the positive in their children, singing songs, drawing pictures with them
Building a strong parent-child bond by showing affection, responding to their child's needs
Reading to them
Encouraging social skills
Maintaining a daily routine, which brings comfort and reassurance to little ones
Finding the strengths in themselves and their children, and building upon those strengths
And much more!
And guess what?
The Anne Arundel County Department of Health, Prevention Department, is getting ready to offer the Strengthening Families Program for parents of children ages birth to 3 years old!
The Strengthening Families Program (SFP), Birth to 3, is a 14 week, evidence-based family skills training program, which is designed to increase resilience and reduce risk factors for behavioral, emotional, academic and social problems. This program helps parents/caregivers to:
Learn the importance of attachment and bonding
Communication skills with infants and toddlers
Use empathy to improve infants/toddlers relationship
Provide effective discipline;
Set constructive limitations;
Use attention and rewards to improve their infants/toddlers' behaviors
Participants understand the negative impact of substance abuse on family relationships
We will meet once a week, via Zoom, from 2:00-2:45pm, every Thursday, starting on January 6, 2022! This is a free program, and participants receive all program materials and incentives for participating.
If you think you or anyone you know could benefit from this program, please contact:
Loise Taliaferro, Strengthening Families Supervisor for Anne Arundel County Department of Health at hdtali00@aacounty.or or at 410-507-5147
We will be happy to assist our families to build strong, resilient communities!
Sincerely,
Loise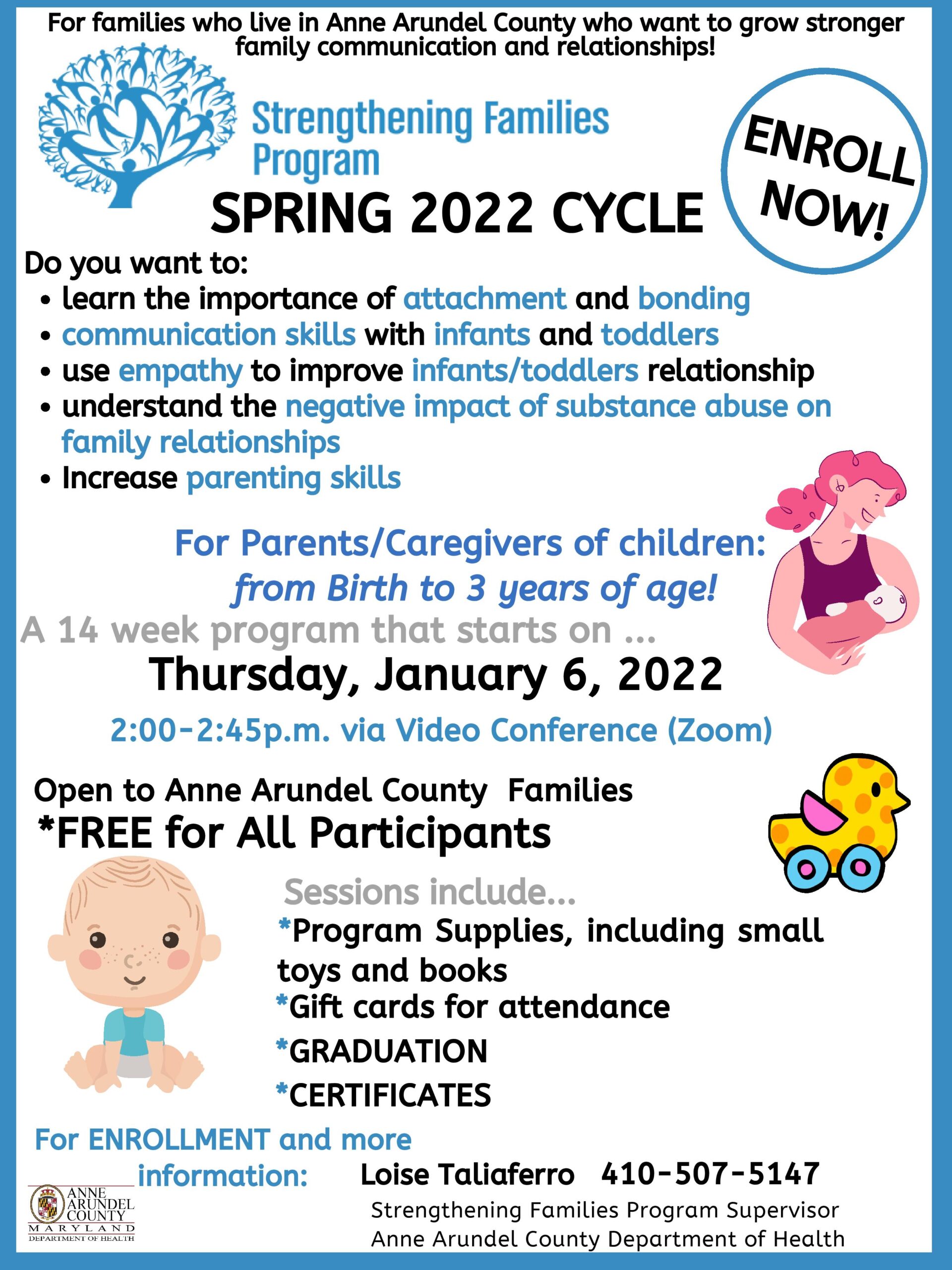 References