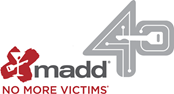 My name is Julia Halberstam, and I am the new Program Specialist for Mothers Against Drunk Driving (MADD) in Maryland. I have been with MADD Maryland for two years. I obtained my undergrad degree in Criminal Law and a master's degree in Forensic Investigation.
As you may know, MADD works tirelessly in the community in support of our mission to stop drunk driving, support victims of this violent crime and prevent underage drinking. In the state of Maryland, 142 people were tragically and unnecessarily killed in alcohol related crashes in 2020 and over 20,000 Maryland drivers were arrested for DUI/DWI.
Did you know:
Parents are the leading influence on teenagers' decisions about drinking. Believe it or not, teens list their parents as a significant influencer in their decisions to not drink alcohol before the age of 21.
In 2019, about 24.6 percent of 14- to 15-year-olds reported having at least one drink.
MADD knows that to create a future of No More Victims® we must start by educating and empowering youth to make healthy choices. At MADD, we have two great programs, and I would like to discuss the flexible and safe opportunities we offer so that you may implement these programs at your school. Please feel free to click on the links below to learn more about these programs. We understand the uncertainty around possible in-person learning, so both presentations can be done virtually or in-person. All programs are free of charge.
Power of Parents
MADD's Power of Parents program equips parents to have intentional and ongoing conversations with their teens about the dangers and consequences of underage drinking. Visit www.madd.org/powerofparents for tips and resources.
Three out of four teens say their parents are the leading influence on their decisions about drinking-so start talking and keep talking until they are 21.
Power of You(th)
MADD's Power of You(th) program empowers teens to take a stand against underage drinking and drug use, and to never ride with an impaired driver.
Two-thirds of underage drinking – related deaths do not include a vehicle.
Teens will hear from a Victim of Drunk or Drugged Driving to share how an Impaired driver has affected their life
Teens can read real-life stories, learn how to get out of unsafe situations and pledge to protect their friends at www.madd.org/powerofyouth
With your support, we can and will make a difference and take one step closer to our mission of No More Victims. For more information, please feel free to call me at 410-964-5757 ext. 2450 or e-mail 
Julia.Halberstam@madd.org
.