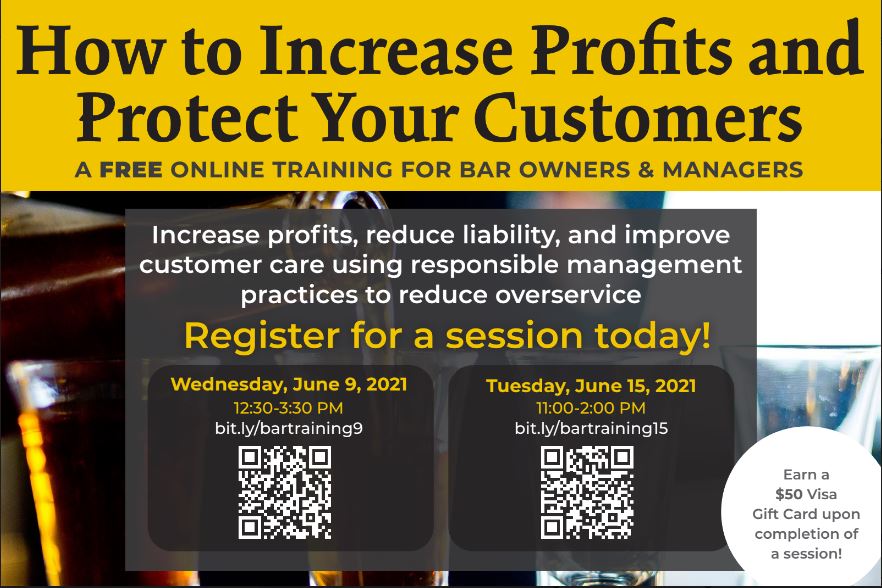 About a year ago, I had the pleasure to attend a special professional training for bar owners and managers. In my occupation as a substance misuse prevention specialist, I wondered what a seminar designed to increase profits for bars and restaurants could mean for potential overindulgence- or overservice- of alcohol. Is it really possible for alcohol-selling businesses to make more money while selling and serving in a way that keeps people from getting overly intoxicated? It turns out, yes! Gregg Hanour teaches the techniques that he has learned through years of business experience in the alcohol-selling industry. His advice is easy to listen to, entertaining, memorable, and meaningful. What you get from the training is:
Practical guidance from an experienced bar owner on how to reduce over-service, increase profits, and decrease liability.
A $50 Amazon e-gift card.
A personalized Management Action Plan for each participating business.
If you are an interested owner or manager, register for one of the upcoming FREE trainings
For the training on June 9 at 12:30, click here
For the training on June 15 at 11:00, click here