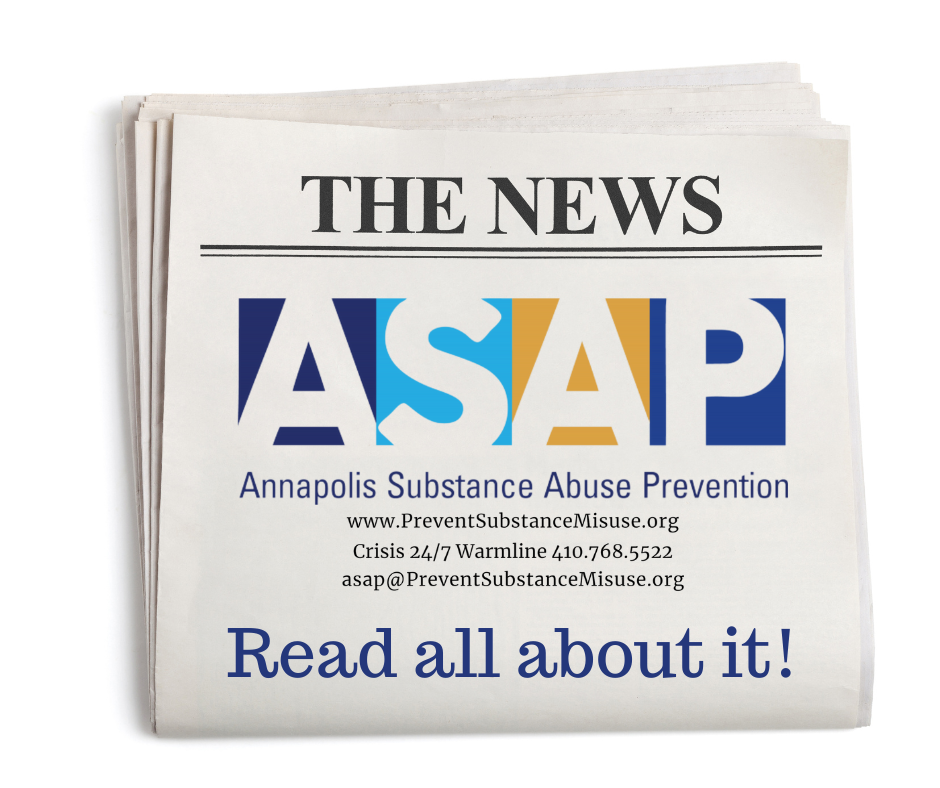 Annapolis Substance Abuse Prevention Coordinator, Leslie Beers, recently had an opinion piece published in the Capital Gazette! Read her article here:
I am the Prevention Coordinator of Annapolis Substance Abuse Prevention (ASAP) Coalition and South County Bridges to a Drug Free Community Coalition. I use my personal and lived experiences, my knowledge regarding mental health and substance misuse, and a background in early childhood education to spread prevention messages to the youth and families of Anne Arundel County. I was not always fit for this role; quite frankly, had you told me 10 years ago that I would be leading a substance misuse prevention coalition composed of community leaders and members, I would have laughed.
Today, this role is so much more than just a job; it is an opportunity to spread hope, healing, and understanding to a community certainly in need of it. And now, especially as a parent of a middle school student in AACPS, the conversation surrounding these often sensitive topics is imperative. I want my daughter to know that she is not alone, that there are people and resources available to her when, and if, she needs it. I do not want her to feel that mental health and substance misuse are topics to keep secret; it is that exact stigma that keeps people silent and sick. As a person and mother in long term recovery, my opinion is that it is crucial for youth to understand how easy it can be to slip into destructive patterns of thought and behavior and that the choices one makes can have great effects on one's future.
My goal as Prevention Coordinator is to educate the community about the importance of mental health care and raise awareness to the reality of substance misuse to empower youth and families and break the stigma. I want youth to know it's okay to not be okay, and there is no act that shows greater courage, strength, and intellectual ability than the act of asking for help. Many people still view this as a weakness; as a community, we must help change that mindset. Our youth are depending on us to smash the stigma that surrounds mental health and substance misuse.
The greatest risk factor for young people developing substance use disorder is improper management of mental health. This can arise from everyday, normal teenage growing pains. A major commonality among growing teens are the feelings of inadequacy, whether it be in academics, sports, family, relationships, self-esteem; the list goes on. If these feelings are tucked away and never discussed, they tend to grow, and as they grow in silence, it is only natural to seek out ways to cope. More often than not, this is when we see youth pick up self-destructive coping skills. This is where prevention and the promotion of proper mental health and self-care is most crucial.
The Prevention Coalitions of Anne Arundel County work with the community to promote public health, safety, and wellness, by reducing drug and alcohol misuse among youth and young adults through evidence-based strategies. Find your community coalition and come be part of the solution, www.PreventSubstanceMisuse.org/find.